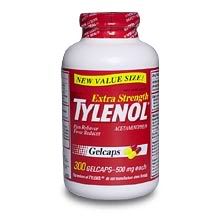 Do you take over-the-counter (OTC) pain medications daily at the maximum recommended dosage? If so, you may be over-medicating yourself.
Johnson & Johnson, the manufacturer of the popular OTC pain pill Tylenol recently announced that it would be reducing the recommended dose of its Extra Strength Tylenol from 4,000 mg or eight pills a day to 3,000 mg or six pills a day. Tylenol contains acetaminophen, which is found in more than 600 medicines, including Alka-Seltzer, Nyquil, and Sudafed. People mixing these medicines often unknowingly overdose on acetaminophen.
So why is Johnson & Johnson changing its dosing instructions now? More than 56,000 Americans are hospitalized each year after overdosing on acetaminophen, which can cause liver failure. In fact, acetaminophen overdoses are the leading cause of liver failure in the United States and lead to nearly 458 deaths each year.
Because acetaminophen is found in so many other OTC products, Johnson & Johnson thought it would be best for consumers if the company lowered the daily recommended dose. New labels on Extra Strength Tylenol with the reduced dosage will start rolling out this fall. Next year, Johnson & Johnson will also change the dosing instructions on its regular Tylenol.
While health experts are praising Johnson & Johnson for voluntarily changing the labels to reflect the lower recommended dosage, they are also worried that companies that produce similar OTC products are
not informing consumers sufficiently about these medicines
and how they may interact with other medicines.
Beginning as early as 2009, some medical experts called on Johnson & Johnson and the Food & Drug Administration (FDA) to lower the recommended dose to as little as 2,600 mg per day. They also urged the major pharmaceutical company to require a prescription be written for Extra Strength Tylenol 500 mg. Neither of these changes were made at the time, and Extra Strength Tylenol is still available as an OTC medication.
In recent years, Johnson & Johnson has suffered major setbacks in manufacturing several of its popular OTC drugs. Just this year, the company recalled 43 million packages of Tylenol, Benadryl, Sudafed, and Sinutab products because the equipment used to produce the drugs was not sufficiently cleaned.
Even with "safe" OTC drugs on the market, pharmaceutical companies need to help consumers understand what ingredients are in the medicines they are taking, how those interact together, and the maximum dosage of each drug they should be taking per day.